5 Questions with Lance Nelson
TIG continues its 5 Question series with Grand Rapids-based photographer Lance Nelson. Lance is a commercial / documentary photographer whose work has taken him from remote islands to some of America's most notable rock 'n roll clubs. In addition to being a photographer, Lance is also an internationally accomplished musician and we recently had the chance to sit down with him.
—
TIG: What part of the photography process do you most enjoy? Why?
Lance: I love the fact that every single day and every single assignment is completely different. With that you get to meet a lot of really inspiring and interesting people. It is a great feeling when you're able to get your new friends / subjects to let their guard down and capture real, candid moments.
—
TIG: What is your favorite photo that you have taken?
Lance: A few months ago I was asked by Joel Rash at the Flint Local 432 (FL432), a club I've been performing at and volunteering for since a teenager to come out and photograph the sold out Bear Vs. Shark reunion show. I had sort of planned to photograph this show by sneaking in on a guest list or something because it really meant a lot to me. I knew I wanted to be behind the amps for a portion of this show because I've always been inspired by how Glen Friedman has documented portions of Fugazi's live sets in photos.
It just so happened that Mark picked up the mic stand and started moving toward the audience as they were throwing their fists in the air and shouting his lyrics back to him. At that time John lifted his bass and my lens flared from the club's stage lights. A split second of harmony then happened between my camera, the band and the audience. I was elated at that very moment knowing that I truly captured a shot that I was going home excited about.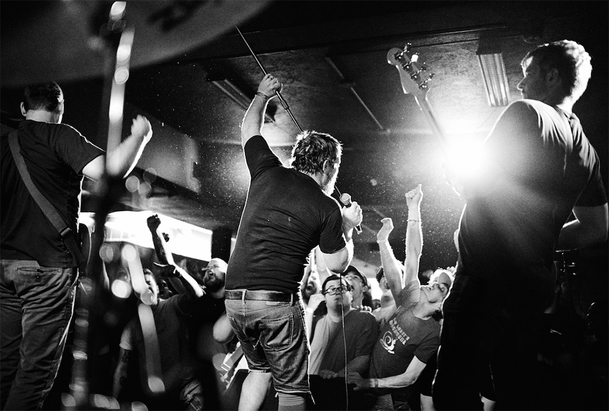 —
TIG: What is your favorite photo that someone else has taken?
Lance: I spent quite some time browsing my personal collection of photography books, viewing my favorite photographer's digital portfolios and cannot pinpoint a single image that stands out to me at this moment in my life. A year ago I would have told you "Dovima with the Elephants" by Richard Avedon. I love, love, love Richard Avedon.
But today as I am flipping through books and am freshly returned from a quick jaunt to Detroit I've come across a live photograph in Danny Clinch's book "Still Moving" of Iggy Pop and fans rushing the stage at a festival in 2007. As I'm writing this my speakers are pulsating to "Fun House", the Stooges second and most monumental effort, in my opinion.
Within this image are screaming fans with smiling faces, sweaty bodies, the occasional rock fist, a shirtless man with his middle fingers in the air and of course a snotty sixty something year old man named Iggy Pop. Hidden like Waldo within the chaos his tongue is hanging from his mouth – its a real moment filled with love, excitement, panic and of course two of the most important ingredients of Rock 'n Roll… Anger and Angst.
I love it. I wish my Sansui receiver went to 11 right now.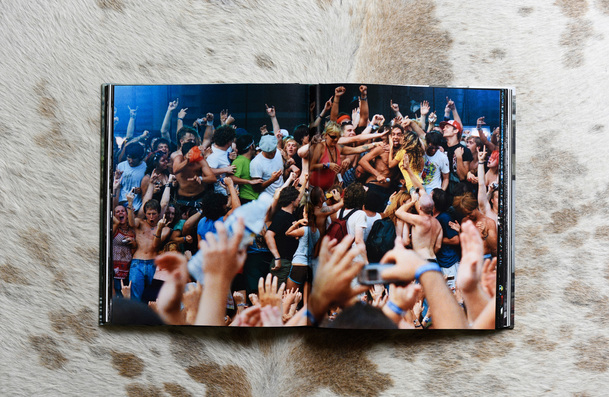 —
TIG: Do you have an image that tells a good story or has a good back story? Which one? What is the story behind it?
Lance: A few years ago I was sent to Chicago to document the mixing and recording sessions for Cheap Girls album "Famous Graves". I was automatically excited due to the nature of the shoot because not only was I there to shoot a great document of a band I enjoy but the band would be working with Jeff Dean who is an incredibly talented guitar player and recording engineer. Also, Craig Finn who fronts the band The Hold Steady who I'd been a huge fan of since I was a teenager in high school was to be flying in from Brooklyn just to "hang out" during the sessions. Turns out he ended up recording back up vocals on the recording during his last day in the studio and I was there to document it.
I ended up shooting through the windows between the control room where Jeff and I were stationed and the live room where Ian and Craig were hashing out the vocal parts. I ended up taking my favorite shot of the entire week during those focused times between Craig and Ian. Here is Craig satisfyingly listening to the playback of one of the final takes he just ran through the board. This is one of those moments I think many would look past as its not exactly an "in your face" kind of "rock 'n roll moment." Let's call it a moment in between a moment, or something. Whatever it was, it was a damn good moment.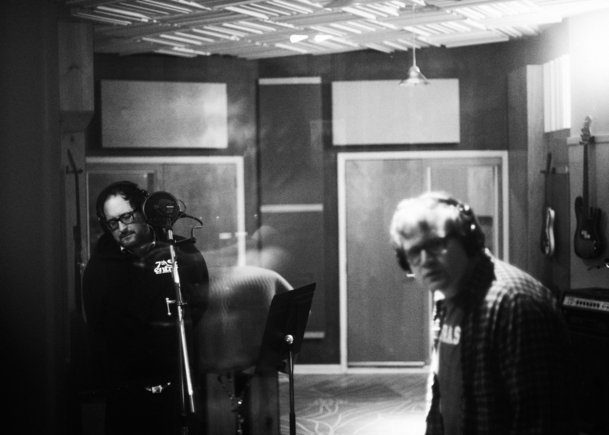 —
TIG: What's your dream photo shoot?
Lance: My dream photo assignment would easily be to continue photographing musicians and artists throughout their live shows and recording processes. It would be incredible to step foot inside of Capital Records Studio A with a Leica and an unlimited amount of Ilford Delta 3200. Anything fly fishing related would be great too! ; P
—
Thanks again to Lance Nelson for taking the time to come hang out with us and talk about his work, his process and what gets him going. Click here to see more of Lance's work.
Stay tuned to see who's next in our 5 Questions series.